I'm sure that most of you have heard of sales battlecards. The Microsoft Partner Network still encourages every channel partner to create at least one to help them better align competencies across their channel ecosytstem. Battlecards are short, sales-ready documents that provide sales teams with an understanding of a specific competitor's marketing strategy, key sales messages, product information, and tactical value propositions to use when selling against your competitors. Typically, battlecards are no longer than 2 pages, and provide sales organizations with a competitive displacement "cheat sheet" or CliffNotes. Because they break down the necessary information so effectively and efficiently, companies can be sure that their sales teams stay aligned.
There really isn't a simple applied methodology to creating a sales battlecard. The best "standardized" framework that I have come across is by the Forte Consultancy Group.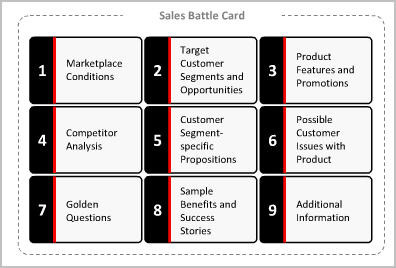 They recommend using the following 9 steps or sections to create an effective sales battlecard.
I will quickly summarize each of the steps.
1. Market Conditions
This step ensures that your sales staff has a firm understanding about the marketplace they are selling in. Quick points about market size, estimated market demand, and other relevant data related to market segmentation should be added here.
2. Target Customers and Opportunities
What pains are your customers experiencing? This step needs to specifically highlight who your buyers are (i.e. their personas), what they currently are missing and how your product and/or service will fill the gap.
3. Product Features and Promotions
In this step, a quick description of product specifics should be highlighted using your customer vernacular with a larger focus on relevant benefits. I wouldn't recommend putting limited time offers or promotions on your sales battlecard, unless they are valid for over 12 months.
4. Competitor Analysis
This vital step is essentially a competitive SWOT analysis in comparison to your current product or service offerings. I typically create a matrix, and add brief notes about their weakness, pricing, support differences, etc.. Leveraging proof points that are legitimized by customers who left your competitor and decided to come to you, can be extremely effective.
5. Customer Segment – specific Propositions
What do your prospects care about most? This step doesn't focus on any product specifics, but more the intangibles that the product will provide if used (i.e. unmatched warranty, fanatic customer support, free upgrades, etc..)
6. Possible Customer Issues with Product
This step should provide enough detail to arm your sales team with a way to mitigate any concerns a prospect may have when inquiring about a potential bad customer experience.
7. Golden Questions
The most important part of the sales cycle is getting prospects to self-identify their needs by asking questions. These questions should be used as a trigger for your sales rep to match the best possible product, package, license, etc.. with the customer at hand.
8. Referencing Success Stories
This step is self-explanatory. Nothing is more useful then giving concrete, real-life examples of success stories experienced by your own customers. Obviously, the story is more effective if the problem(s) you solved, are similar to the problem(s) your prospect has experienced or is experiencing first hand.
9. Additional Information
I usually use this final step to create a small reminder checklist. Did I forget to mention a valuable note, has a follow up meeting been scheduled, have I determined BANT for this project, etc..
There you have it, 9 steps to creating a sales battlecard. I would highly recommend 'every' organization that doesn't exclusively sell organically to create one. Well prepared battle cards can play a vital role in empowering your sales force, ensure that everyone is on message and allows your sales team to have an upper hand during prospective customer engagements. Preparation is certainly a catalyst to sales success, and your battlecard is the official cheatsheet.